Who is the Best Company to Outsource Video Production in UAE?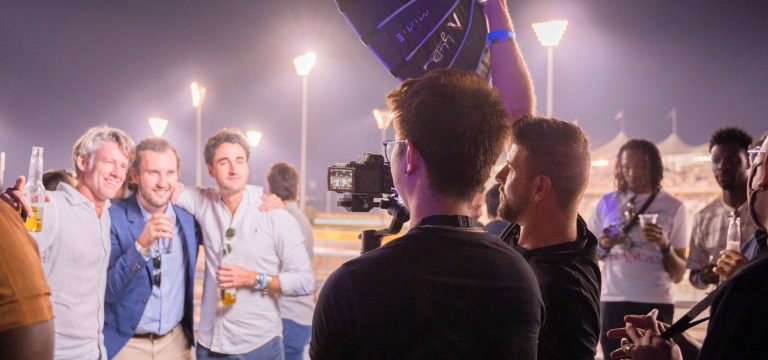 Anyone who knows anything about marketing will tell you that by 2022, 80% of organic search traffic will be for video content. The time of video has arrived. It's no longer a good attribute to have as part of a considered marketing campaign, it's now essential to driving traffic – and customer engagement.
In-House or Outsourced Video Production? The Four Questions that You Should Ask Yourself
This has left businesses facing a question. Should they employ an in-house team to plan, shoot, and edit video content or do they need to outsource video production to a top video production company, like Sensa Productions. Of course, there are several different facets to this question. It's not just a question of service, sector, or budget. 
How to choose a video production company in the UAE
So, let's look at the five most common questions businesses must answer to decide if they should outsource their video production to the best video production company in UAE, Sensa Productions, or have it in house. Be sure to pay particular attention to each as they're all paramount to making what could well be the most important marketing decision you'll make this year.
Question One: Have You Got the Manpower to Do Your Video Production In-House?
Right now, not many businesses have the manpower to devote to video production. Whether that will remain the same in the coming years is another story, but as it stands, corporate in-house video production is generally reserved for media companies. 
There's a lot that goes into video production. From concept creation to script writing, shooting, and editing to promotion. It requires a team with a highly advanced skill set – something that's not quite as simple as hiring a sales manager.
Then there's the issue of hiring multiple people. There's a limited number of people who can proficiently conceptualise, shoot, edit, and promote video content… and most of them work for studios!
Now imagine that you decide to hire a writer, an editor – even a drone videographer and you'll quickly see how in-house costs can escalate. Don't forget also that you could find someone who's a genius at shooting yet cannot conceptualise to save their life!
So, should you choose in-house or outsource your video content to the best video production company in the UAE, Sensa Digital? The answer is plain: outsource. 
Question Two: What's Your Video Production Budget? 
If you're thinking that you can save some money by producing your videos in-house, think again. As all media production houses know, video equipment is expensive – and at the end of the day, you get what you pay for. 
Hiring a full in-house team alone will cost you a fortune – and that's without the necessary equipment you'll need. There's also the insurance, office space. You may have to open a separate studio for all your video production.
Below is a list of the basic equipment you'll need for all your corporate film production: 
4K camera from leading brands like Canon, Sony, or Panasonic - $900 upwards

Three-point lighting kit - $125 upwards

Camera lenses $200 to tens of thousands

Tripods $200 to thousands 

Headphones $50 to thousands
As you can see, setting up an in-house videography studio doesn't come cheap! And that's just for starters!
So, should you choose in-house videography or outsourced video production by one of the best video production companies in UAE – Sensa Digital? The answer is plain: outsource.
Question Three: Are You a Good Storyteller? 
Making great video content isn't about point and shoot. It's about telling a compelling story. Drawing viewers in with your narrative. Communicating who you are and what you do creatively. Standing out from the competition… and so much more. 
Are you confident that you, or anyone you may employ in-house can offer these skills? Do you want to take the risk of employing someone, only to discover that whereas their technical prowess is commendable, their storytelling skills are somewhat lacking? If not, then there's only one solution. 
However, as we guess you're beginning to realise, there's much more to this question. What about omnichannel storytelling? If you're intent on promoting your video, are you confident that you'll be able to find someone who'll understand the difference between video marketing on Twitter and YouTube. What about Facebook and Instagram? Again, we've only scratched the surface. 
So, should you choose in-house videography or outsourced video production for your corporate film production in Fujariah? The answer is plain: outsource. 
Question Four: Can You Adapt to the Ever-Evolving Video Landscape? 
Video is constantly evolving. From technology to techniques, trends to formats, nothing about video remains stagnant. To continue to create immersive video content that immerses audiences, you need to adapt to the landscape. 
This is something that even the most ambitious and creative of businesses can fail to do. Let's examine one aspect. So, you've forked out an arm and a leg for a fully kitted out studio. You've employed the best people you can at great expense, only to hit a stumbling block: the video content you create is outdated. People want drone videography. What happens now? You have to go back to the drawing board – only this time, you're hugely out of pocket.
Adapting to the evolving landscape is something that every video studio or videographer needs to do. Technology and trends come and go. Storytelling changes. Consumer expectations elevate. That's a fact of our digital world. Your in-house setup could be fantastic in 2021. Obsolete in 2022. 
So, should you choose in-house videography or outsource your video content to production companies in Sharjah? The answer is plain: outsource. 
Any Argument Has Been Settled About Video Production 
The bottom line is that to leverage video production as part of your marketing strategy, you need to employ the services of a video productions company like Sensa Digital. It's that simple. 
Do this and you'll save money, have cutting-edge video content, and promote your brand through compelling storytelling, giving yourself the best possible ROI. You'll influence. You'll communicate. You'll be educated. You'll compel. You'll stand out from the competition. It's that simple. 
Interested in learning how Sensa Productions can help you to showcase authority and build authority through great video content? Contact us today to find out more.