Top Four Places to Shoot Aerial Photography in Dubai and the UAE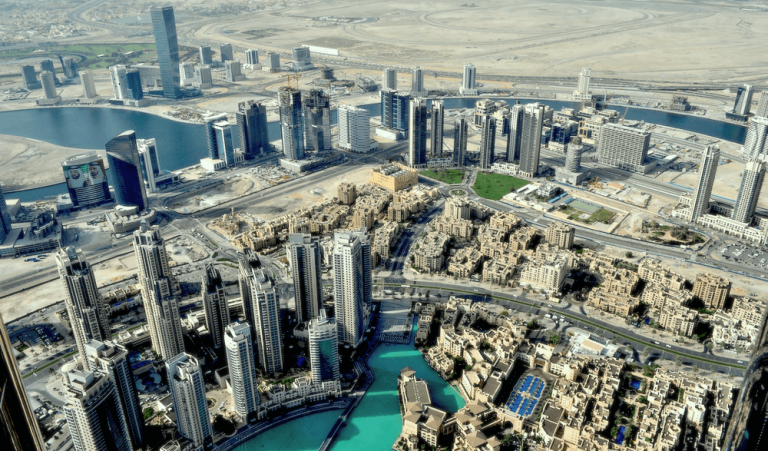 As one of the most breathtakingly beautiful places in the world, it should come as little surprise that Dubai is host to a never-ending amount of photographic and video production opportunity.
Whether you're an established filmmaker or an aspiring hobbyist, drones can elevate your aerial photography Dubai to new heights, capturing hypnotic images that, not only tell hundreds of stories about Dubai but, who you are.
Whether you've made Dubai your home or have the budget for a once-in-a-lifetime trip, you owe it to yourself to explore the architectural marvels and picturesque landscapes that Dubai has to offer with your camera.
Shooting video and photos with drones in Dubai and the rest of the UAE
Not sure where to start where to start shooting? Have you a clear idea of nature and tone that you'd like your images to personify, only to have a shadow cast on your location scouting? Don't worry, help is at hand. From sleek skylines to historic places of worship, here are five of the best places to shoot drone photography Dubai – and across the UAE.
Creekside, Dubai
Considered to be the soul of Dubai, separating the city from Deira to the north and Bur Dubai to the south, Creekside presents some of the best opportunities for a drone photographer to capture Dubai in all its splendour.
Whether you venture to the north or the south, you'll discover energy, enthusiasm, with locations that exude life and represent the 'human' side of life in Dubai. With the combination of lively streets, crowded shops, gaggles of people and culinary outlets, there are few better places in Dubai you can go to find the Dubai that they don't tell you about on all the tourism websites.
Put your photographic skills to the test. Creekside gives you the opportunity to capture street, portrait, land or cityscape photography. The best time to visit is an hour or two before sunset. Become absorbed in the hustle and bustle or entranced by the vivid colours and unique shapes your eyes will be presented with.
Four Points by Sheraton and Shangri-la Hotel, Sheikh Zayed Road, Dubai
No urban aerial photography Dubai excursion would be complete without a visit to Four Points. If you're looking for the perfect cityscape shot, this is where you need to go.
Level 43 Sky Lounge in Four Points by Sheraton offers a jaw-dropping view of the city and is where some of Dubai's most iconic urban photography shots have been taken.
Visit the Shangri-la Hotel pool deck to view Dubai's towering monument to architectural ingenuity – the Burj Khalifa. Treat your eyes to a panoramic view of Dubai's skyline and the surrounding buildings and capture this once in a lifetime experience. Before visiting the hotel, make sure to email them in advance to pre-warn them of your intention to take photographs.
The best time to visit the Shangri-la Hotel is at sunrise or sunset. You'll be enthused by the exquisite colours in the sky as much as you will be captivated by the colours in the sky.
Al Ain Desert, Abu Dhabi
Venturing outside the city of Dubai, the quiet town of Al Ain boasts a perfect desert with beautiful red sand and a night sky that's been completely untouched by pollution. It's one of the few places in the world that has remained completely untouched by man's relentless march, from the industrial to the technological revolution.
Explore this haven of desert dunes and pearlescent skyline. Like any drone photography and videography in Dubai, Al Ain Desert in Abu Dhabi deserves to be captured in all its glory. Create photographs that will instantly transport you back here from the moment that you look upon your photographs.
Al Ain is a great place for seasoned drone pilot photographers to visit and test their landscape photography skills. Why not spend a night under the stars to capture night time shots? Such is the unique beauty of this place, you'll be amazed that it even exists! Visit at sunrise or sunset and take to skies with your drone and capture images that you won't be able to anywhere else in the world.
Sheikh Zayed Grand Mosque, Abu Dhabi
A historic building that invokes awe and spectacle, Sheikh Zayed Grand Mosque in Abu Dhabi is one of the most majestic places of worship in the world. Adorned with beautiful mosaic tiles, gold chandeliers and intricate architecture, the grand mosque is one place that, if not an icon of religion, could well have been built purely for photographic opportunities.
Step into the marbled courtyard and the world's largest hand-woven carpet and you'll immediately notice why Zayed Grand Mosque in Abu Dhabi is revered as a place where aerial photography Dubai, and across the UAE, trumps anywhere else in the world.
Visiting hours are Saturday-Thursday, between 9am and 10pm, though the best time to visit the mosque is an hour or two before sunset, a time when you can catch the blue hour and marvel as it lights up the evening.
You may have to call in advance to check if photographic equipment, such as tripods, are permitted on the grounds. Though visiting this mosque will leave you under no illusion of what magnificent photography should look like.
These just four diverse examples of where to capture the best drone photography Dubai and the UAE. Scout the locations ahead of time, decide on where you'd like to shoot and capture images that do more than tell a story; they are the story.